On most weekday afternoons, I rush back from work to bring my son downstairs to the playground. It usually involves climbing, slides and yes, blowing bubbles. Being a product of the Singapore system, I struggle some days with the anxiety that I should be doing more for him, for the family, for me. But it is in these precious moments that we have each day that remind me that giving him more, is about imparting less of my burdens, and offering more space for him to explore and look at the world through his own eyes. And in case I forget and get caught up in the anxiety of the environment we are in, here's a letter, a gentle reminder, to appreciate what we have.
Dear Liam,
Mummy grew up in Singapore, a beautiful country which you now call home too. It is glorious; the streets are always clean, the buses hardly let you down, and the people – they try hard to be nice, even though sometimes it's difficult to feel so amidst all the noise they make. Sometimes they will complain about the MRT (that's the superfast train we take), about the weather being too darn warm, or how things may not always work the way they might want it to.
In the midst of all this noise, I hope you will remember mummy's voice. I will always want to give you my best, but it might not look like the most expensive school or the grandest holiday to Disneyland. Some families have that; and it will be how their life will be, and others will have less too; so, lend a hand whenever you can.
I've wanted to apologise so many times, thinking I've somehow let you down, chalking this up to yet another aspect of a great life that I am unable to provide (or maybe not just yet). But I decided against it; because there is nothing to be sorry about; slightly disappointed perhaps because being able to do so would be nice, but not sorry.
Instead, this is what your childhood will be like.
We will spend time in the kitchen together, using our hands and creativity to come up with new dishes. Some of our inventions will be amazing, and others not so. But there will be so much laughter, and probably mess – your dad might want to join in too, or maybe we might convince him to do the cleaning up instead (insert cheeky laugh). I promise I won't stifle your inner Masterchef, but I must intervene if you get too close to the stove or forget to cover the lid on the blender.
We will spend way too much time at the playground, engaged in a battle of "Who can swing the highest?" because I used to be the champion back in my day and maybe my old bones will still have it in me. And bubbles, don't forget the bubbles! Remember the little boy who wanted to join in when we were blowing bubbles last week and his mummy told him bubbles were only for babies? She's wrong. Bubbles are for everyone! Keep a bottle handy when you grow up; you never know when you'll need to see the world through those iridescent orbs of happiness.
We will come up with our own adventure series. Can we have a team name? Dad has to be a part of it because if we ever have to set up a tent or fight pigeons, you can't count on me. Its okay, we're in good hands; your dad is pretty nifty with such things. Please learn pigeon-fighting skills from your dad too while you're at it; I'm gonna need all the protection I can get. We'll let you decide on our adventures, and maybe even design our logo – but I get dibs on the outfits. Deal!
Dear child, I will work really hard to keep that curious mind of yours by giving you the space to find out who you are and figure out what is important to you. Some days will feel brighter than others, and other times, people may try to bring you down, or equate your worth to an arbitrary goal. Blow bubbles in their faces and tell them (politely) that empty barrels make the loudest noise.
We can live as boldly and brightly as we imagine. How lucky am I to get to imagine it together with you?
Love,
Mummy
About me: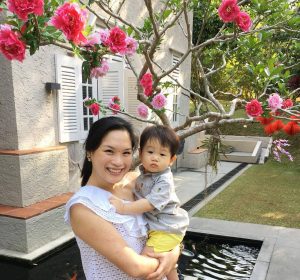 Hi! I'm Victoria, mother to a very active toddler. I started my company The Bright Life to empower people to live brightly and boldly. Our first workshop came about after I gave birth. When I became a mother, I found myself swimming in so much self-doubt I decided that I didn't want other parents to feel this way. So, I got myself trained in working with young children, and turned that knowledge into an easy to understand guide for parents. In a place like Singapore, where academics weigh heavily on everyone's mind, we tend to forget that young children also need a hand in figuring out who they are, and what values to hold dear. Our workshop supports parents who want to help their child build confidence, independence and calm so they'll be able to ride through stress and challenges when they're older whilst being kind and confident. It matters to me what kind of man my son would grow up to be, as I think it matters to you too. Find us here if you'd like to find out more about our work and how we can support you in your parenting journey.