There are many stories of love turning into hate, but Simon Ng (Singapore) will tell you he started out seriously disliking some artists before they become his favourites. Trained in graphic design, Simon Ng turned to painting at the age of 32. His primary activity is painting, with emphasis on the portrait and figurative genre. Based on his personal experiences and memories, his work explores the inner recesses of the mind and self through expressive paintings and illustrations, touching on themes of identity and urban alienation. 
Today, Simon has presented in many exhibitions. His main activity has been in Singapore, but he has also participated in group exhibitions in Kuala Lumpur and was invited to Arteles Art Residency program in Finland. His work is included in private collections and foundation in Stockholm, Oslo, Hong Kong and Singapore. Simon also teaches fine art at LaSalle. 
Left:
About A Boy
 (oil on canvas, 61cm x 61cm)
Middle:
All My Senses Come to Life
 (oil on canvas, 30cm x 30cm)

Right:
The Reticent Man
(oil on canvas, 30cm x 30cm)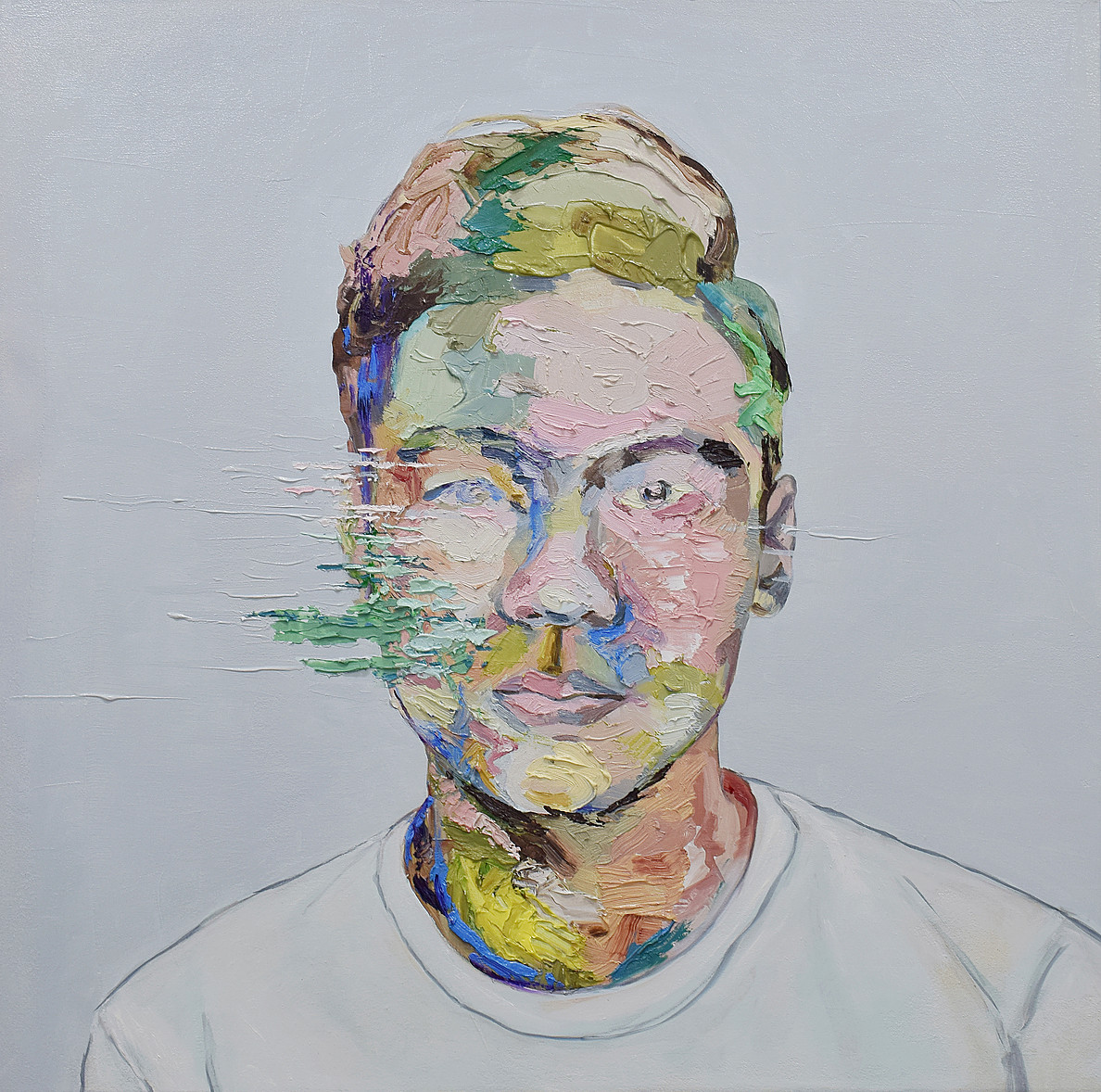 Left:
An Ordinary Day
 (oil on canvas, 30cm x 30cm)
Right:
An Ordinary Boy
(oil on canvas, 61cm x 61cm)
In this series, entitled 'Mysterious Skin', Simon uses the thick paint to create highly textured effect to roughly describe or partly obscure the subject's facial features. Like an outer layer of skin, the raw physicality of the materials traces the hand that is embedded in the creation. Driven by the tension between paint and subject, these portraits reveal little identities of the faces, but expose more of the artist's desire and fascination with the lineaments. Notion of identity, both within the context of artist and the subject, is another aspect of the work which can be observed in this series comprised only of male silhouettes. It is the artist's sense of self that finds it's way intimately into the paintings.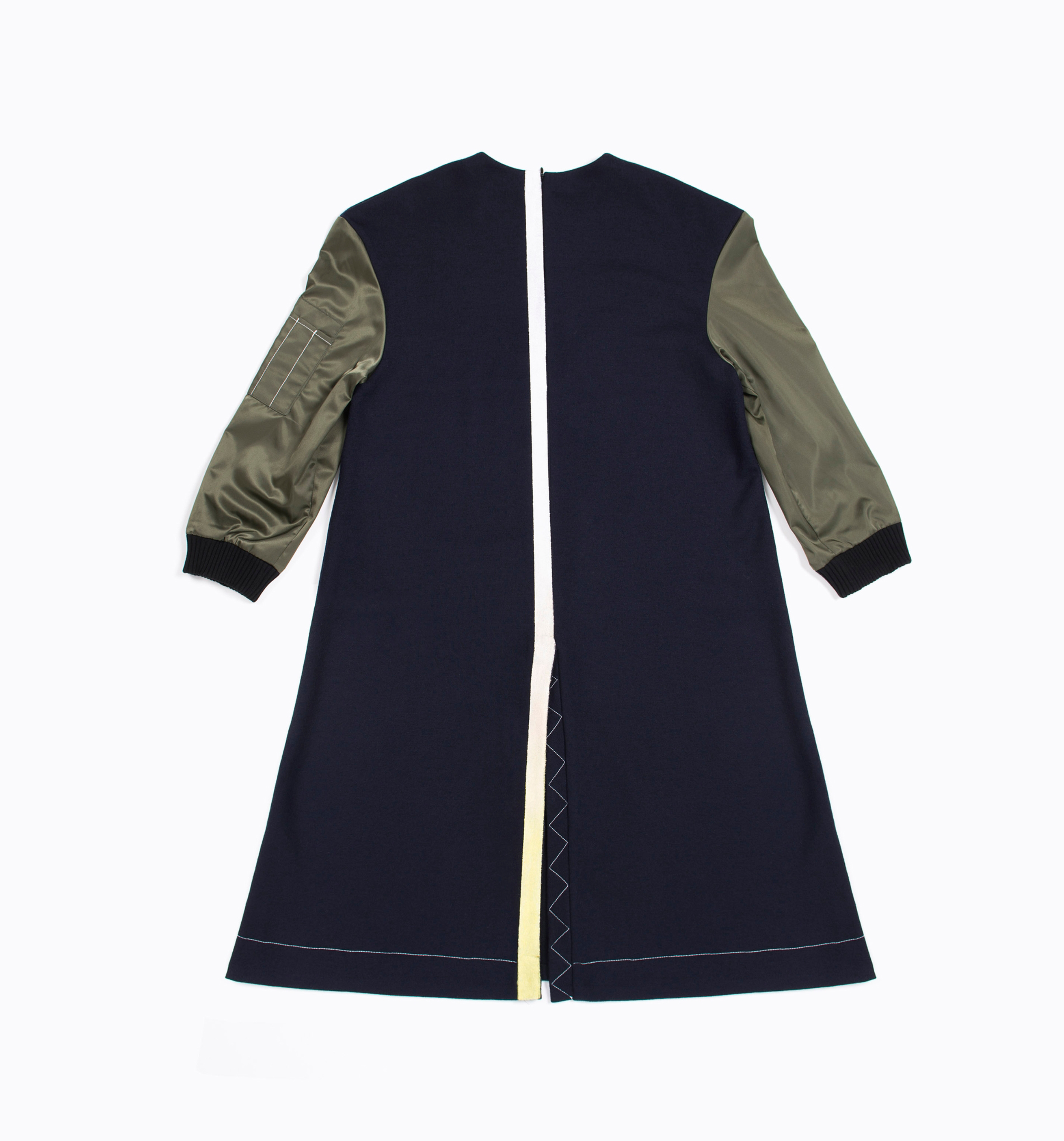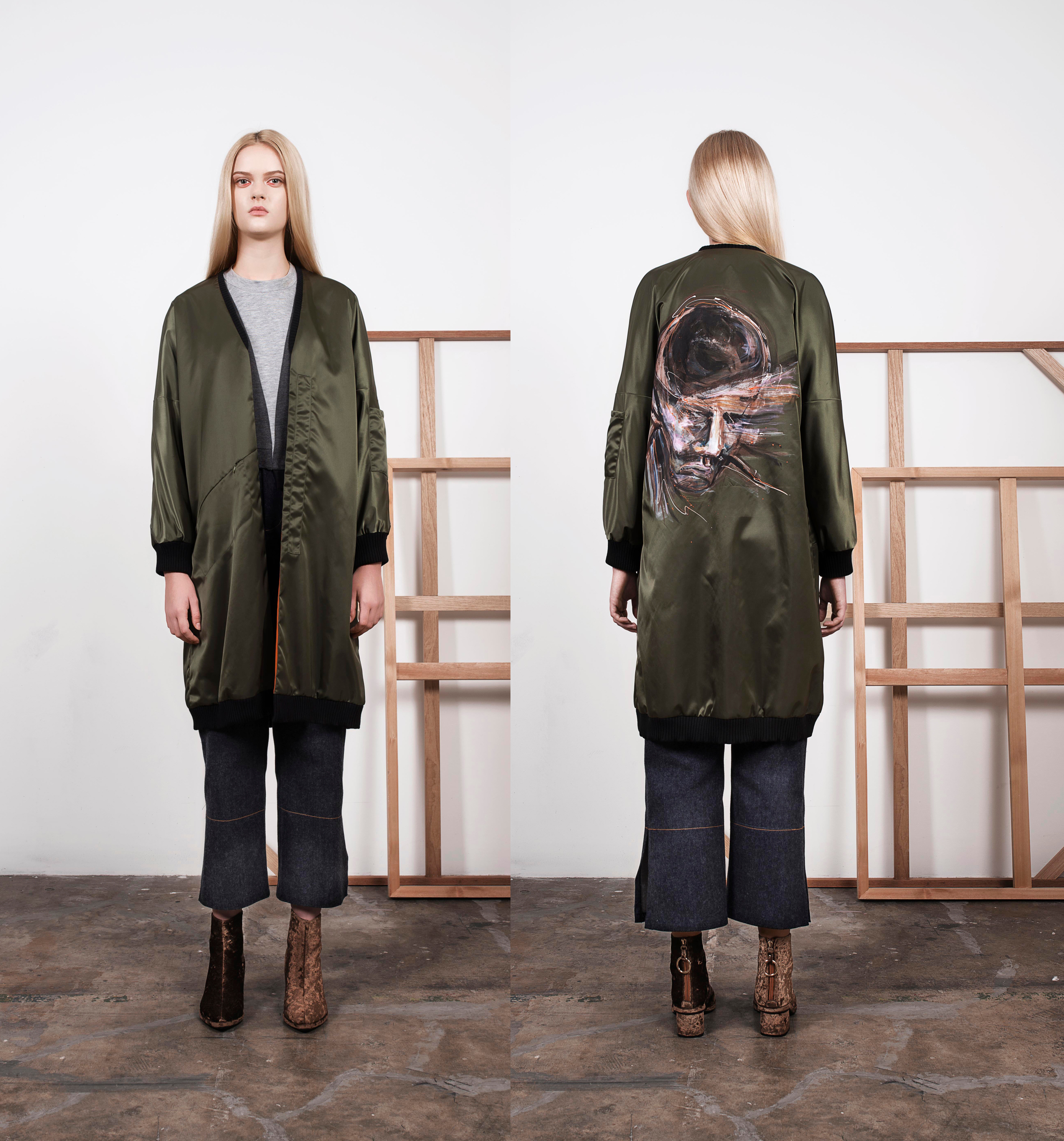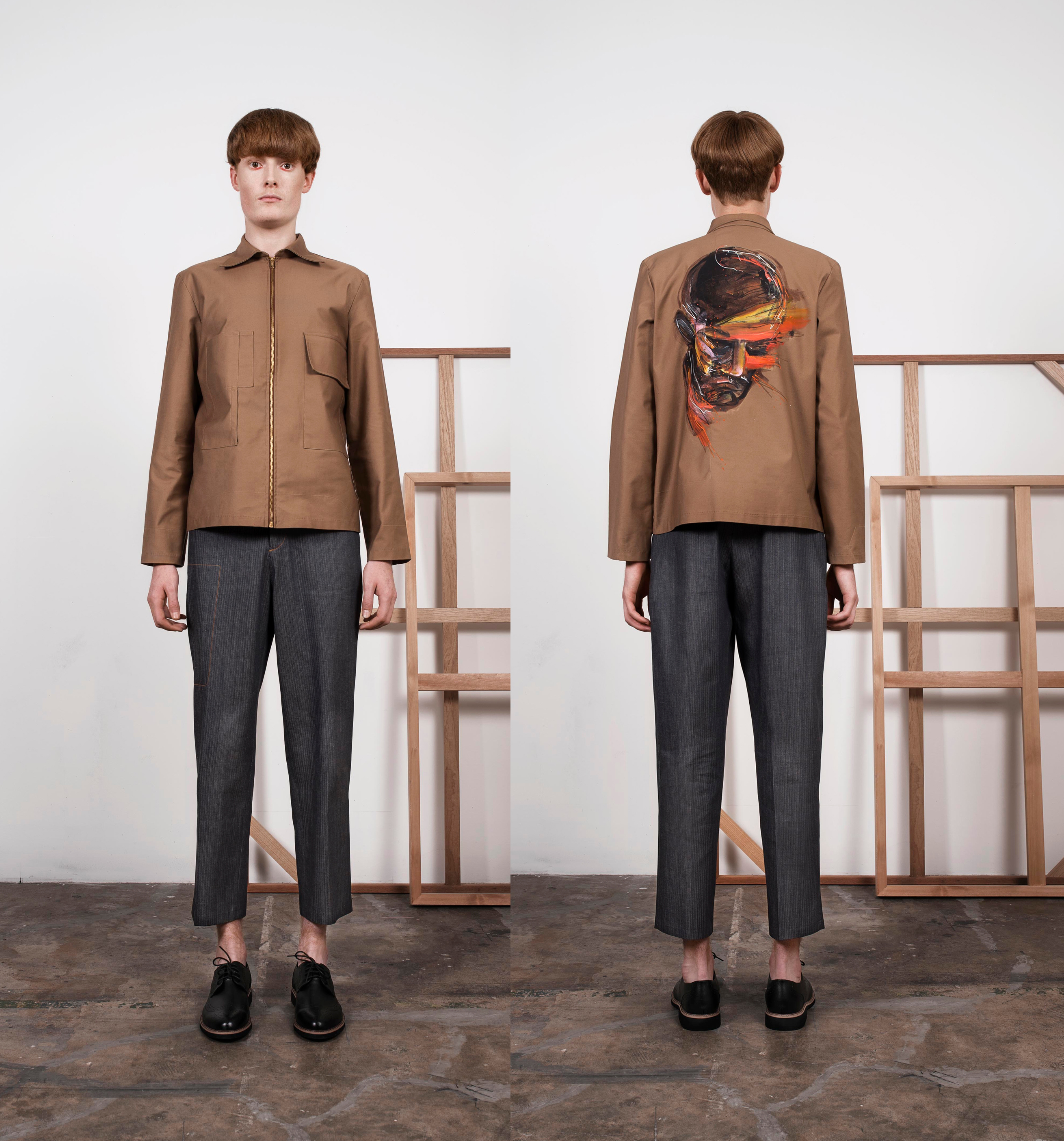 This is Simon's collaboration with Singapore fashion label VOLTAIRE.VISIONS, which is known for its minimalist aesthetic and special attention to details with a creative edge. This collection also sees its debut for menswear line.
For the collection, Simon experimented with the various type of fabric paints in order for the art to be sealed into the fibre of the fabrics. It proved to be extremely challenging to work directly on the final cuts of the garment design when it was first shown to him, he was fearful of messing it up and destroying the garment. For some pieces, he also had to develop a new technique of applying paint especially on material like wool which limits the range of marks which he could work with.
Inspirations for the ambiguous portraits were taken from a fictional story as told by the fashion designer Jireh Ng.  His vision is to create a mysterious identity and aura on the looks, that is both fashionable and edgy.
Fabrics for the Collaboration 2017 collection, were sourced from Japanese fabric mills in Nagoya, Nishiwaki, Osaka, and Tokyo.  Familiar silhouettes onto garments such as the ma-1 coat, work jacket(men's) and A-line wool dress are found in this collection.
A new addition to this collection would be a needle-punch wool denim material, found on the straight cut jeans and the deconstructed oversized jacket. Irregular seams and asymmetrical hemlines are also found on sweaters from both the Menswear and Womenswear.
Check out the amazing collections on www.voltairevisions.com
Simon also took time out to share with Xobon his thoughts on creativity, teaching creativity, and of course, his favourite (or once-loathed) artists. 
1. Why is creativity important?
Creativity is essential as a survival skill for the human race. The creation of fire is testament to how we can separate ourselves from animals and progress as a superior race. We can harness our creativity to lead a life beyond just fulfilling our biological needs.
2. What makes a person imaginative?
Everyone is as imaginative as he or she can be. If you can picture a purple elephant and a green cat, you are an imaginative person. 
3. As a lecturer teaching fine art, how do you encourage your students to think outside the box?
In fine art, there are no right answers, only more questions. Asking questions is an integral part of thinking creatively. It means analysing and breaking down an established idea. Besides, one can't think outside of the box until one can fully understand what's inside the box.
4. How do you challenge yourself to create art which is original and expressive?
Originality and expression are two highly subjective words, so one strives to create works that are as genuine to oneself as possible, and worry less about how others will take to them. 
5. Schools, in general, stifle creative expression. Do you agree? Why?
I do not know much about other schools, but in the art school where I taught, it is all about encouraging creativity and improving the students' skills so that they are able to realise those ideas. These have to be done in stages, and it has to be structured for students to implement their ideas successfully. Students are filled with out-of-this-world ideas, but they need to learn the tools to execute them.
6. Do you think human beings are born creative? If so, at what age do you think a person starts to lose his/her creativity?
I believe creativity is innate in human beings. We will never lose it. However, real life presents too many suppressing factors and we forgo creativity to fit into societal norms and culture.
7. Who is your favourite artist and why?
I have many favourite artists. Most often it always started by having an immense dislike for that artist's works. I will question my understanding, and that leads me to study the artist's process, and I find myself converted to a fan at the end of it. One good example is the English artist Sir Howard Hodgkin. His vivid and viewer-friendly paintings make one feel that on a good day, one too could easily do it. 
8. Do you think solitude can nurture the mind to think unconventionally? If so, how?
We, humans, are gregarious beings by nature. Solitude is, in some ways, a privilege to have. Unlike loneliness, one seeks solitude to be away from the world. When you are comfortable being alone by yourself, it feels like you have a deeper connection with your soul. I believe introspection can nurture creativity; it encourages imagination and a different mindset on many things.