Mention cooking up a storm in the kitchen, and you will see Mina (she turns 6 on 5 Jan) and McKenzie's (15yo) faces light up! These sisters are half African-American half Japanese, they live in Houston, Texas, USA, and they speak fluent English and Japanese. Both of them, especially Mina, enjoy creating colourful and appetizing dishes in the kitchen. The girls started cooking together during the Covid-19 lockdown. McKenzie has always been the breakfast queen, who makes the best eggs/omelette and smoothies. Mina, who likes to be creative with her food—she is more into "food art". The latter takes the lead and likes cooking different recipes. Sometimes, when they are making something together that is time-consuming (such as dumplings and cake decorations), McKenzie would lose patience and then Mina would neatly finish it, saying "this is why I am the chef!".
What you see below here is Focaccia Art, the girls used pizza dough as the canvas, fresh veggies (basil, red onion, tomato, olive and bell pepper) and thinly sliced potato to make floral shapes. They also sprinkled some sea salt onto this piece of food art. After baking this in the oven for 25 to 30 minutes, they ate it with their favourite balsamic vinegar and extra virgin olive oil!
Spootacular Goodies: Look at the captivating and yummilicious Halloween food that Mina made!
First dish: Spider Web Guacamole – simple guacamole with refried beans underneath. The web was made of sour cream, with lettuce, tomatoes and olives as garnish lining the edge of plate. 
Second dish: Monster Cookies – sugar cookies with candied eyeballs. Food colouring was added to make the cookies pop!
Third dish: Maleficent Rice Plate – Mina made this for a Disney villian challenge. Maleficent was made of rice and seaweed, the moon is a pickled daikon, wings were pickled red onion, and the dark ground was jajangmyeon. Jajangmyeon is a Korean noodle dish cooked in black bean sauce.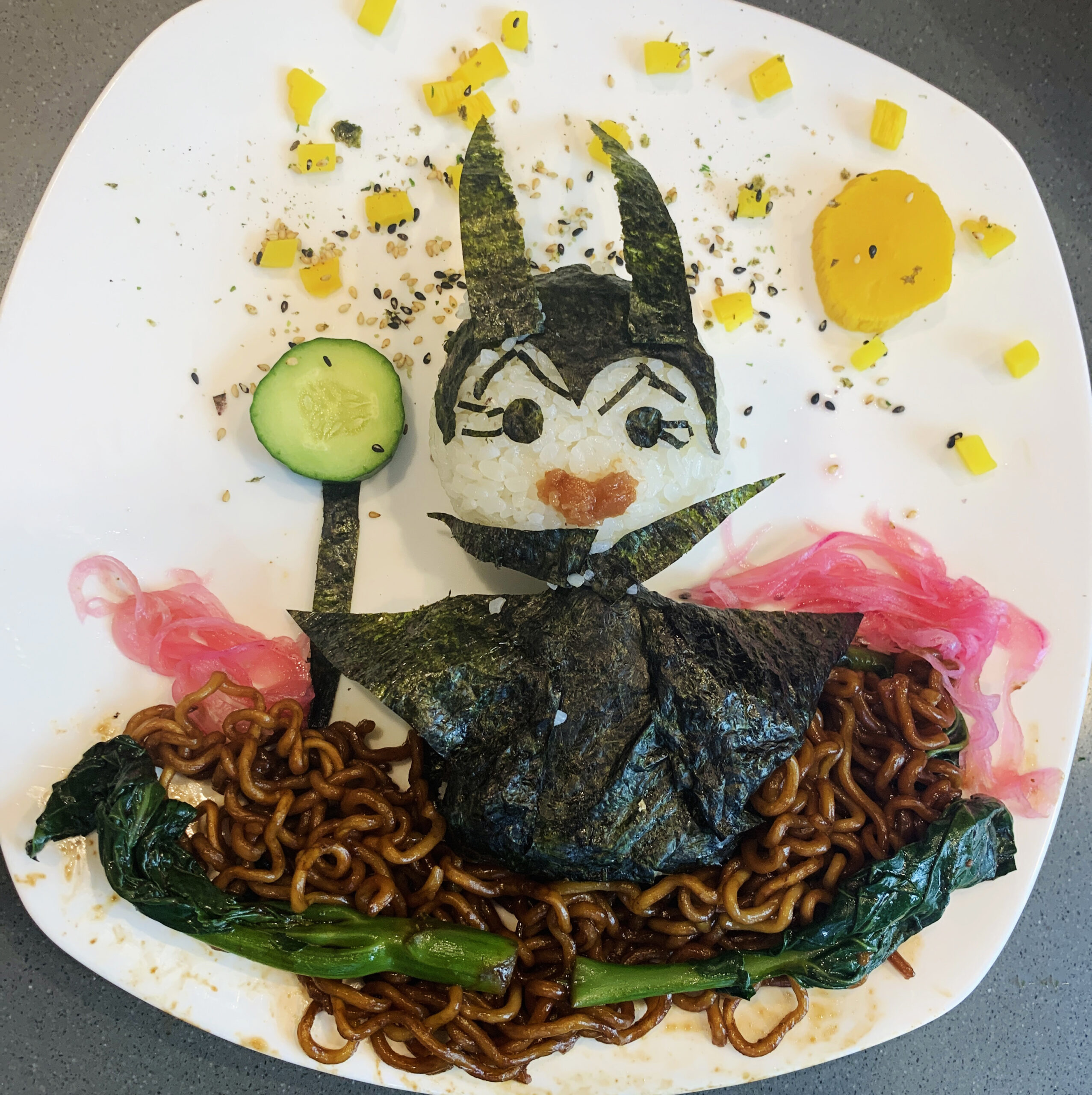 Spooktacular Goodies: Honestly, who needs candies when you have such mouth-watering food during Halloween? 
First Dish: Halloween Sushi Cake – Sushi in the form of a Jack o'lantern cake—how creative is that? Scroll down for the recipe.
Second Dish: Hot Dog Mummies – These were really easy to make. Just wrap hot dogs with thinly-cut dough and bake! 
Third Dish: Puffy Ghosts at a Cheesy Pumpkin Patch – This is a recipe from Stepstool Chef's cookbook. The ghosts and pumpkins were made of puff pastries with cheese on top. Mina is one of Stepstool Chef's "tasting buddies", they are a group of kid chefs who cook from their recipes monthly and then share the baking/cooking on social media.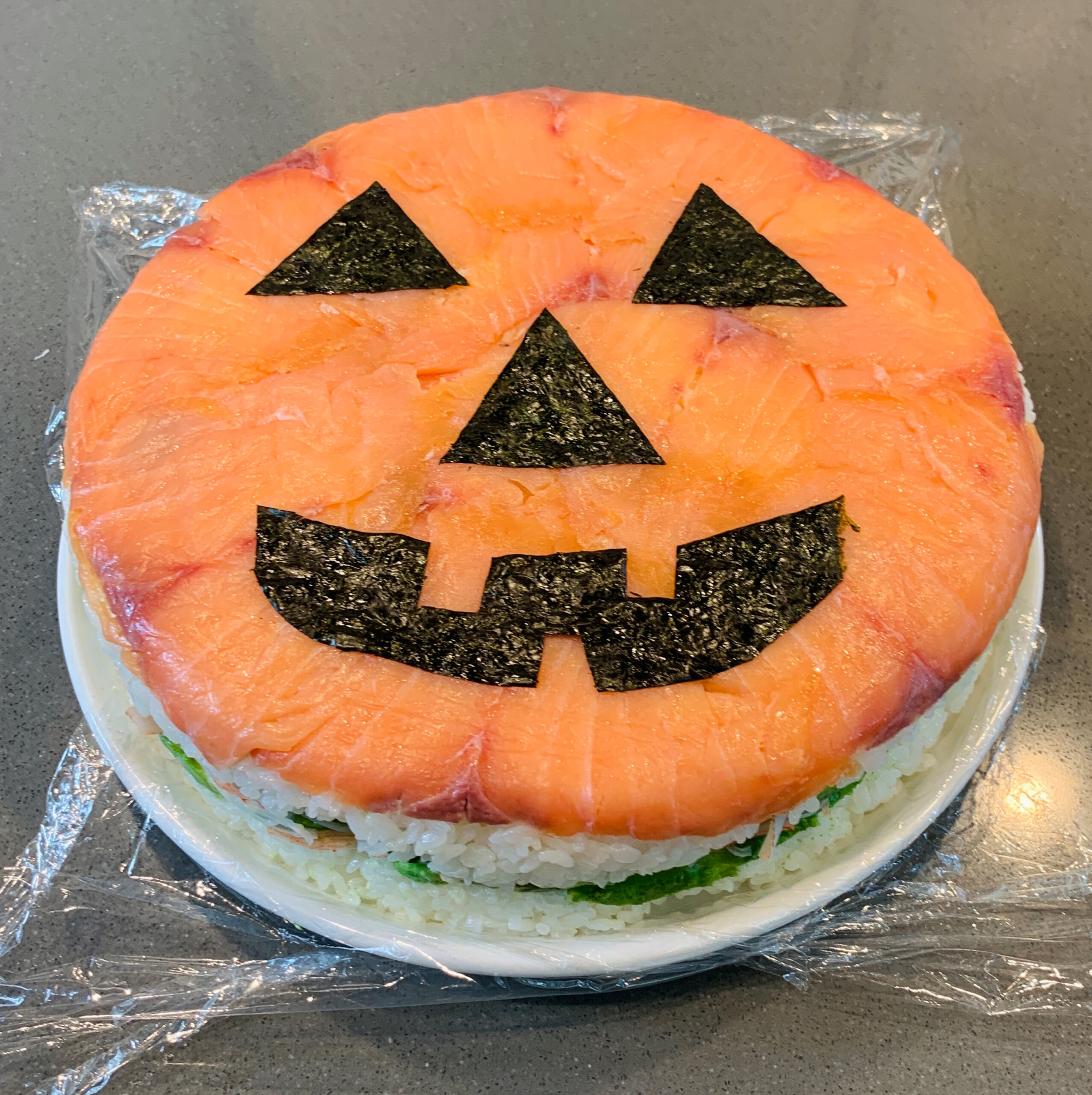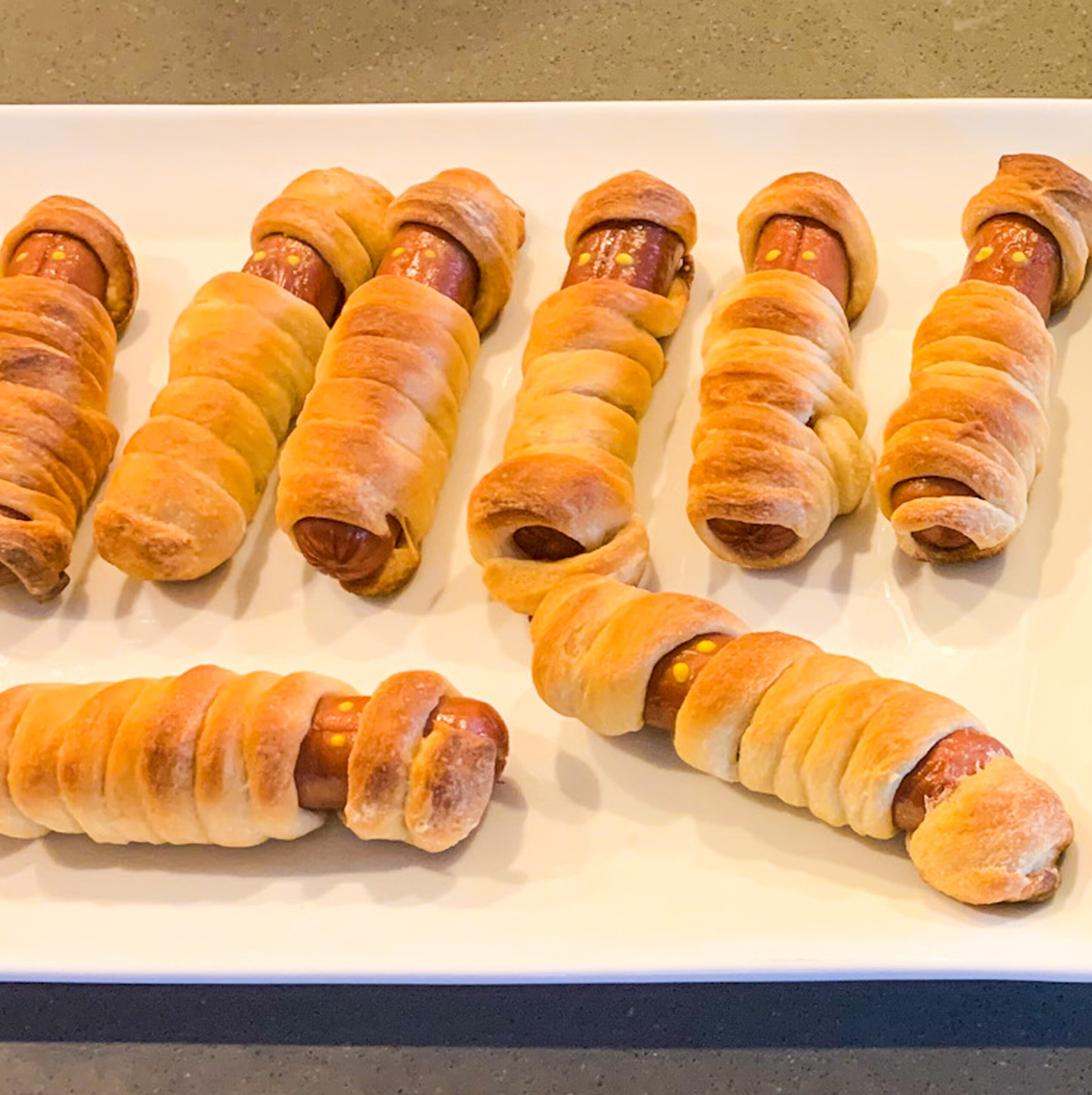 Recipe for Halloween Sushi Cake:
Ingredients:
1 sheet of sushi nori
1 cucumber, sliced
15 sticks of imitation crab sticks, shredded
2 avocados, sliced and coated with some lemon juice
Kewpie mayo (optional)
10 oz of smoked salmon
4 cups of sushi rice, cooked and mixed with 8 tbsp of rice (sushi) vinegar
9-inch cake tin
Plastic wrap
Soy sauce
Wasabi (optional)
Directions:
1. Make sushi rice with cooked Japanese short grain rice and rice vinegar
2. In a round cake tin, place plastic wrap, and start layering the sushi cake!
3. Layers: smoked salmon, half of the rice, mayo, cucumber, crab, avocado, and then the remaining rice
4. Place plastic wrap on top and push down gently
5. Flip it over and remove the plastic wrap 
6. Cut seaweed into pumpkin face shapes and place them on top of the salmon!
Tofu Mochi Donut Bites: Mina made these for an Asian-inspired dessert bake-off. She also loves to make whipped cream and enjoys mixing things. Making sweets is her favourite, but she genuinely loves to cook anything and everything!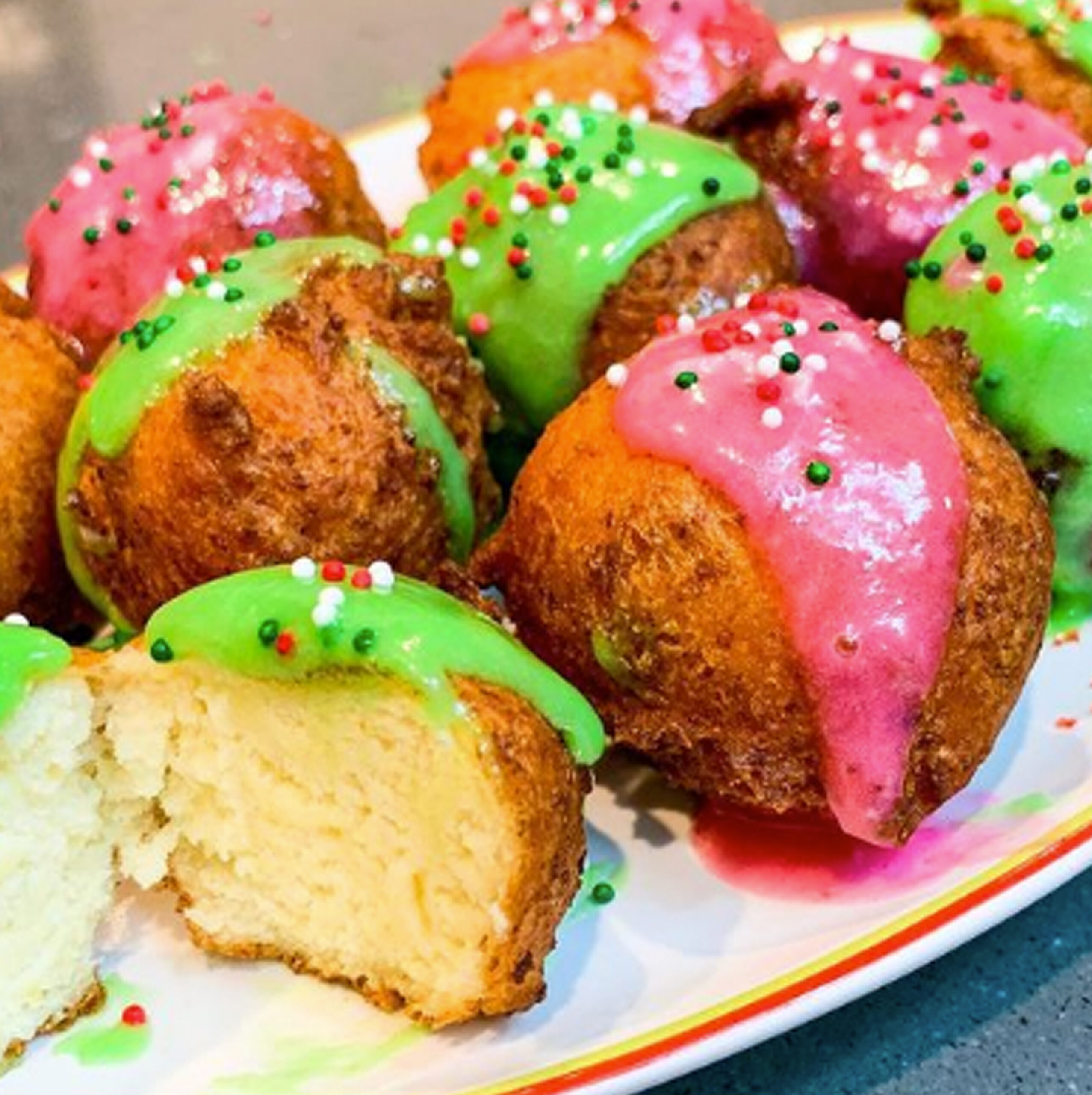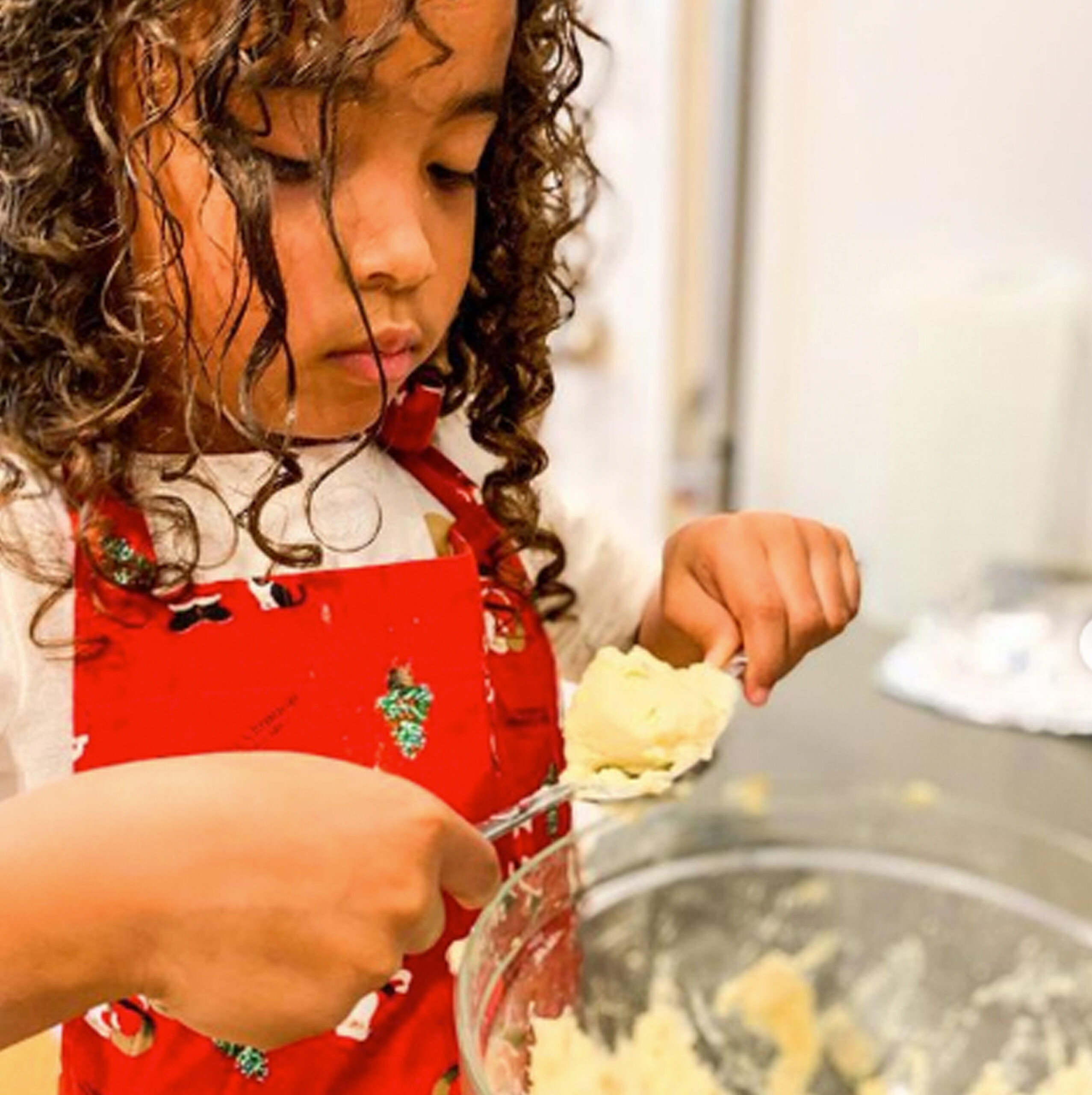 Holiday Chocolate Bark: Mina created 2 layers of chocolate bark and placed rice cereal, dried strawberries, marshmallows on top. Watch the video below to see how she created this tantalizing festive treat.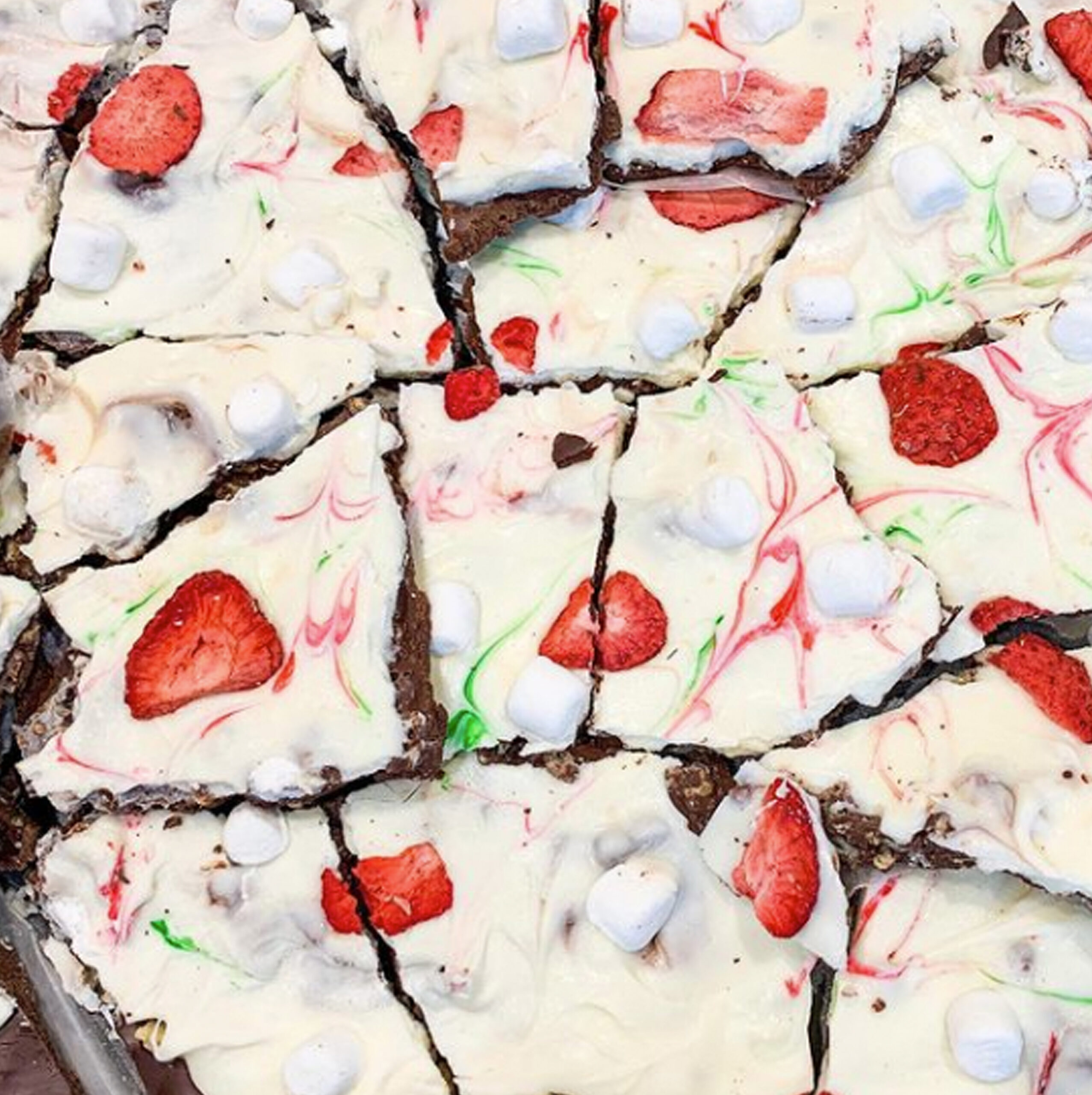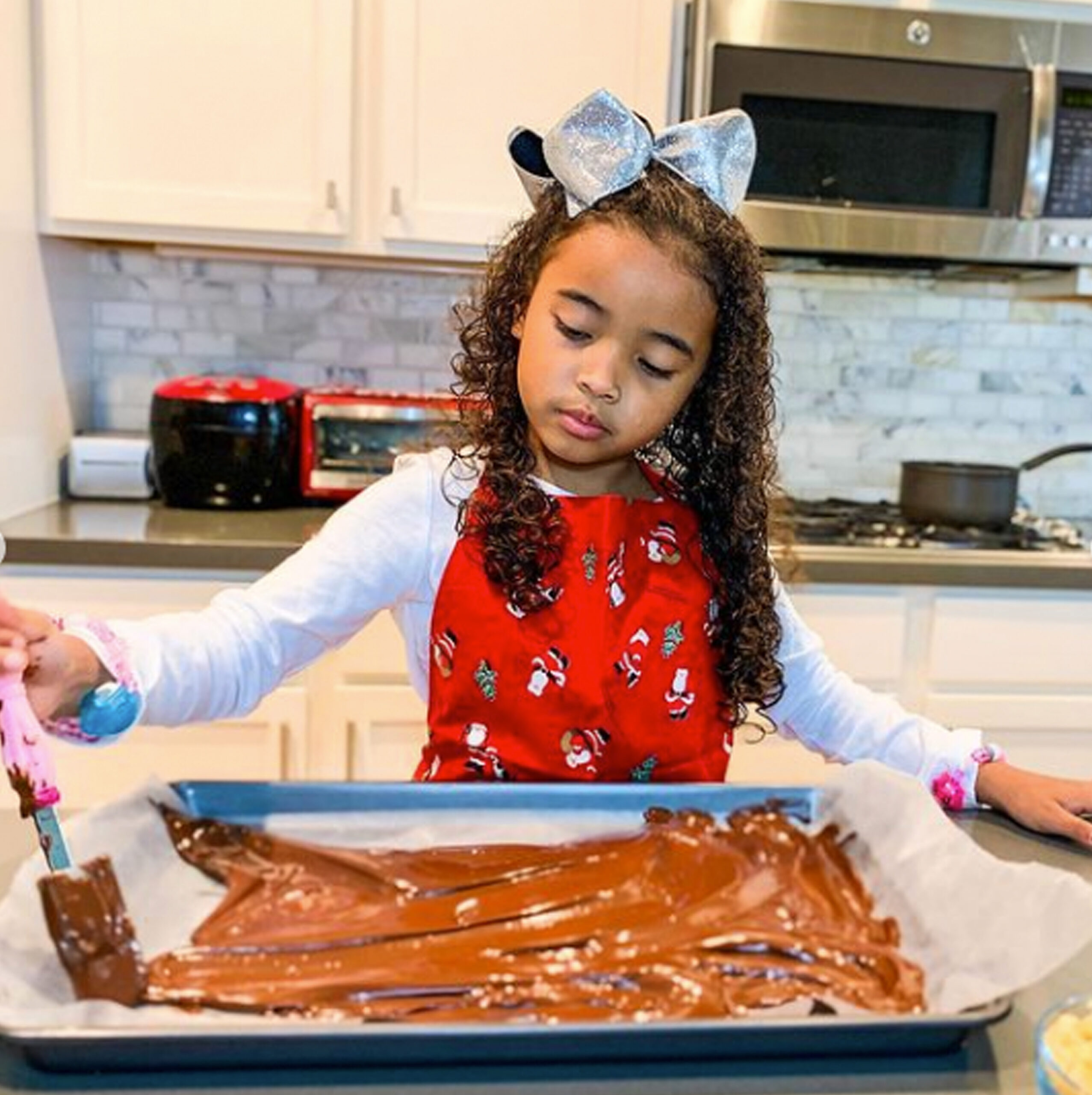 Baked Brie: Watch how Mina gave plain and simple brie some oomph! This makes a great appetizer for parties. If you are keen to give it a shot, follow the recipe below the video.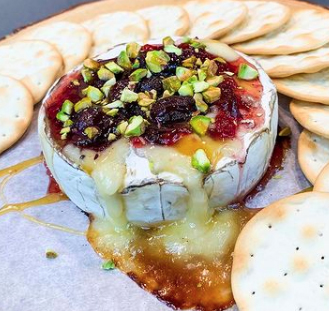 Recipe for Baked Brie:
Ingredients:
7-8 oz brie 
1/3 cup cranberry sauce
1 tbsp brown sugar
1/8 tsp nutmeg
1/4 cup chopped pistachios
drizzle manuka honey (we love Wedderspoon's Manuka!)
crackers
Directions:
1. Scrape the top off the brie 
2. Put cranberry sauce, brown sugar, and nutmeg in a bowl and mix well
3. Put them on top of the brie 
4. Bake for 8 min. at 425F
5. Sprinkle some chopped pistachio on top and drizzle some honey too!
6. Serve with crackers
Prolific little Mina already has quite a lot of followers on Instagram—she often bakes/cooks with other kid chefs online and they are so adorable to watch. Please subscribe and follow this wonder gal to stay tuned on what she's creating in the kitchen!