Katelan Thomas is an illustrator from Ohio, USA whose favourite medium to work with is digital painting. Even though most of her work that you see online was created digitally, she also likes working with ink and gouache.
As a kid, Katelan was always drawing, and eventually she caught the attention of her classmates and teachers. It only dawned on her that she was really good at art when others asked if she wanted to be artist. Like many creative folks, she looks to Pinterest to fire up her imagination and birth ideas, especially when experiencing a creative block. 
Protest at the Beach, a black family joins in the Lido Beach protests in the 1950s. Katelan made this for the Newtown Exhibition in Sarasota, Florida. It was a call to artists for submissions, depicting the Lido Beach Protests in the 1950s. Through making this piece, Katelan learned a lot about black history and segregation.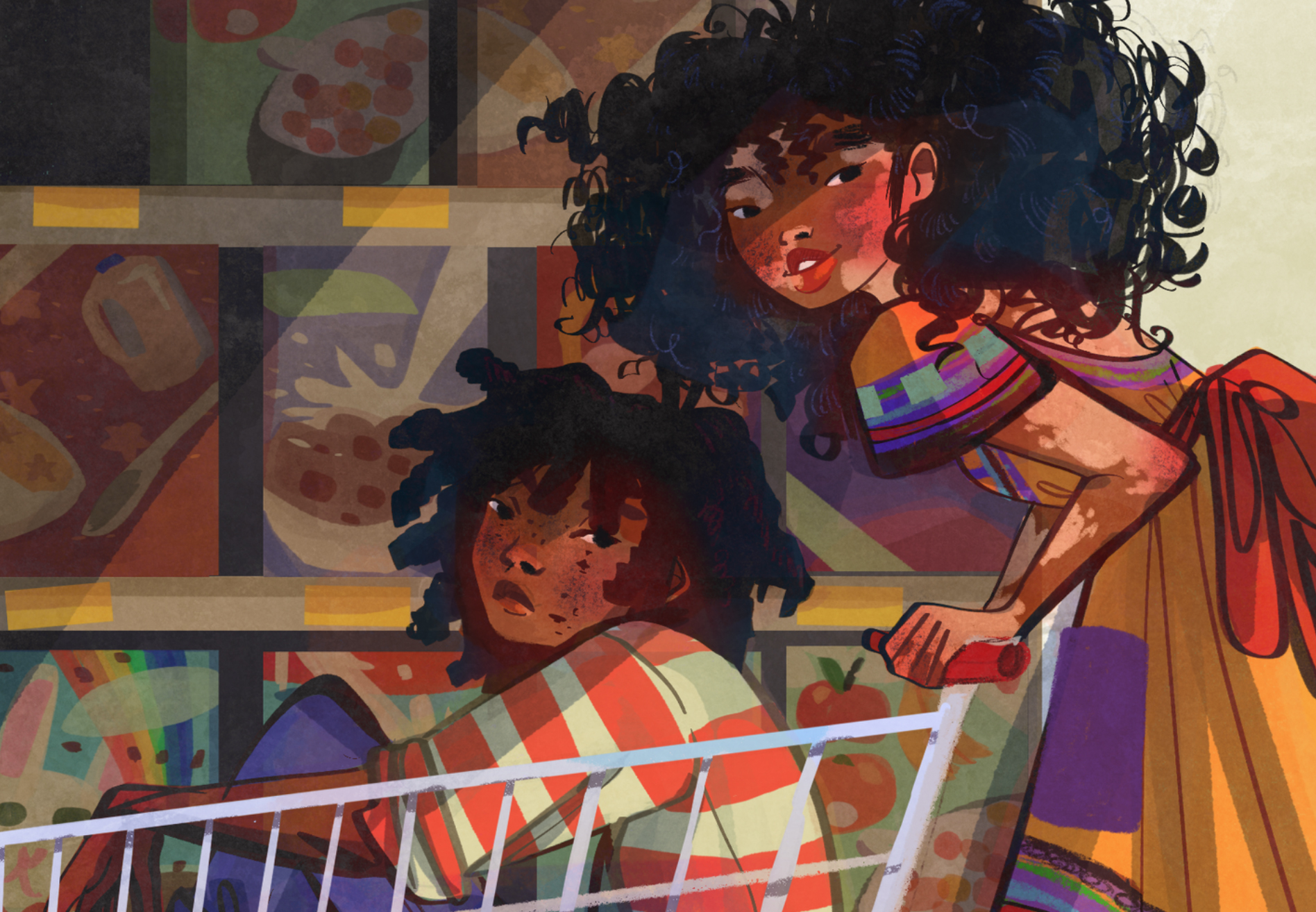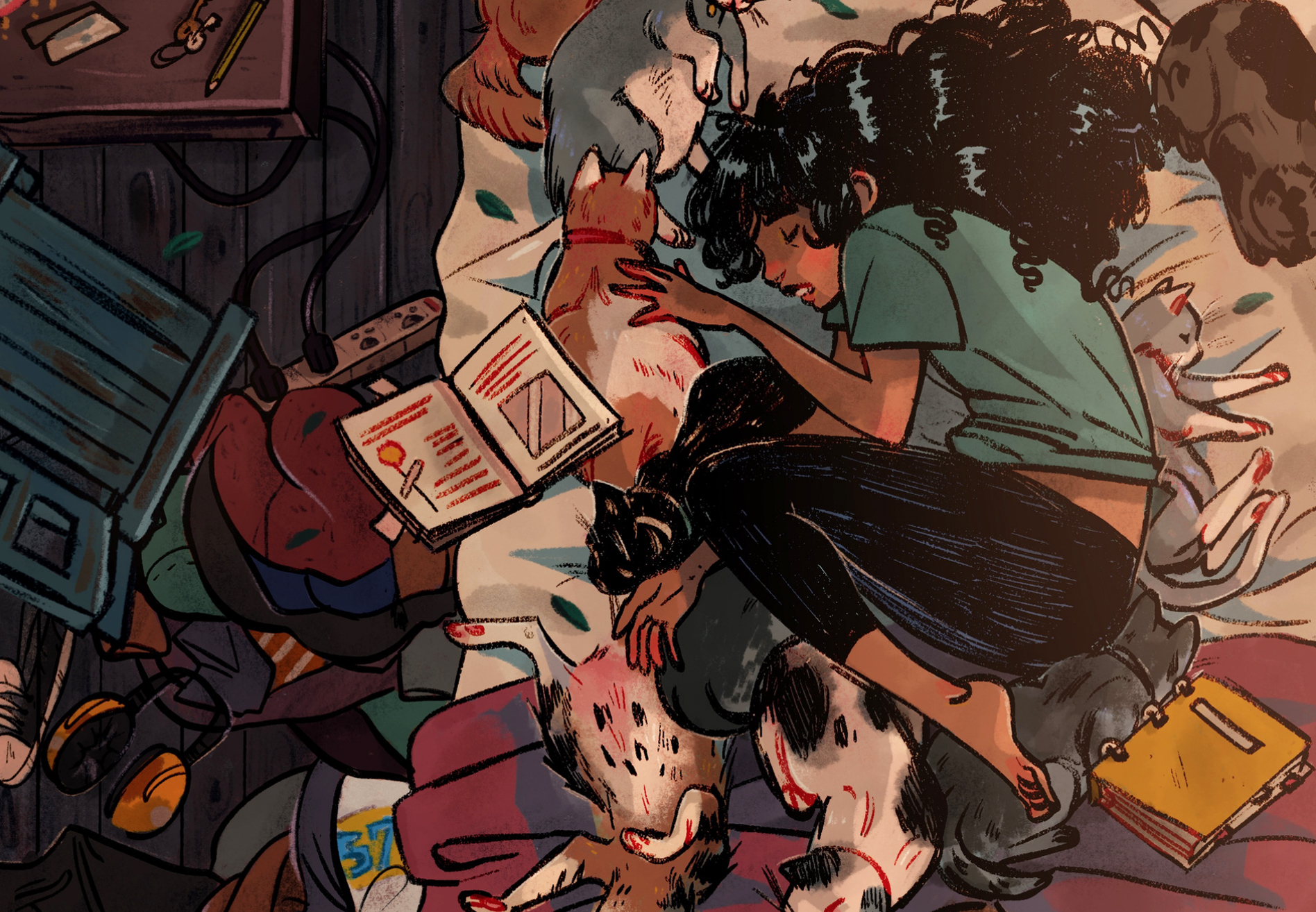 Shopping (left), two kids in the cereal aisle. This is a fun drawing where Katelan experimented with patterns and colours. At that time, she was following modelling pages and photographers closely, and she wanted to try to replicate a photoshop in this illustration. This piece got into the Society of Illustrators Student Exhibition 2020.

Cat Nap (right), girl lying in bed with her cats. Katelan made this in loving memory of her cat, Garfield. He meant the world to her and she knew that his time was coming around the time she illustrating this. This illustration also got into the Society of Illustrators Student Exhibition 2020.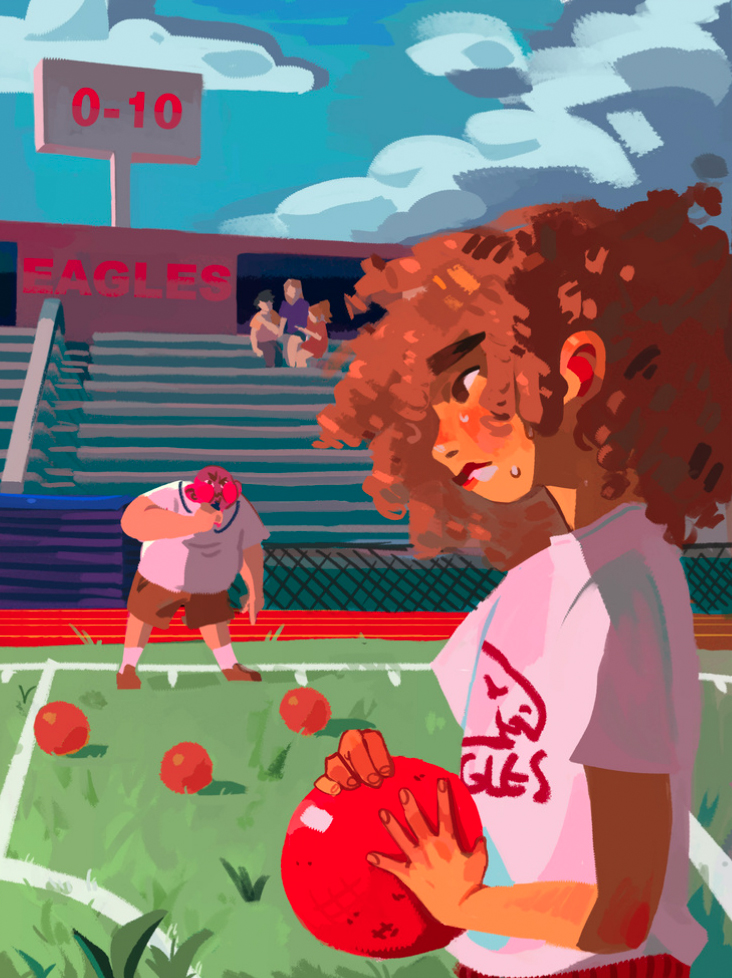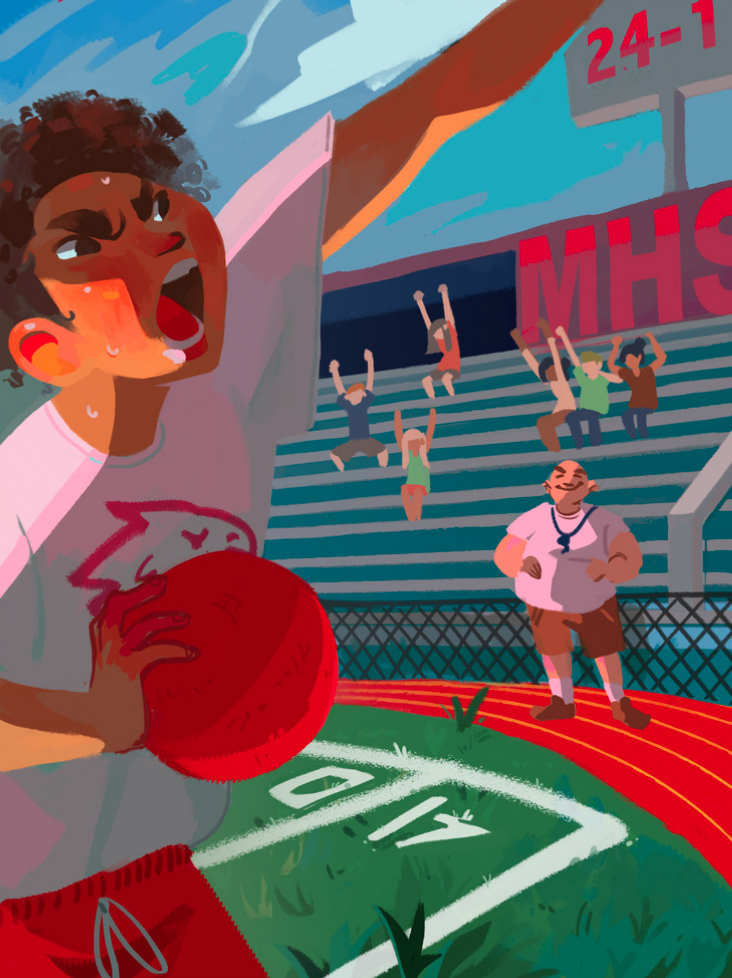 Divided, two siblings playing sports.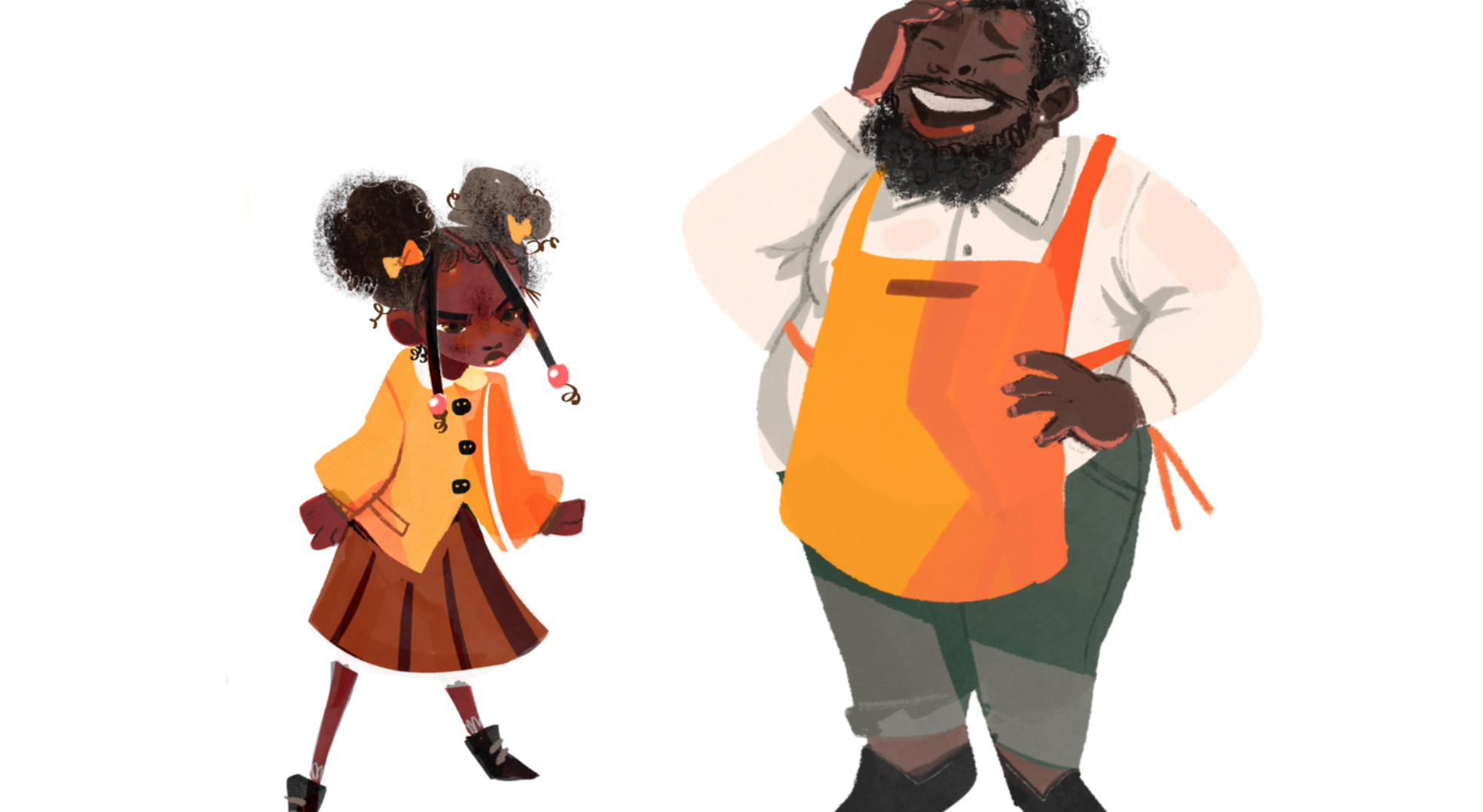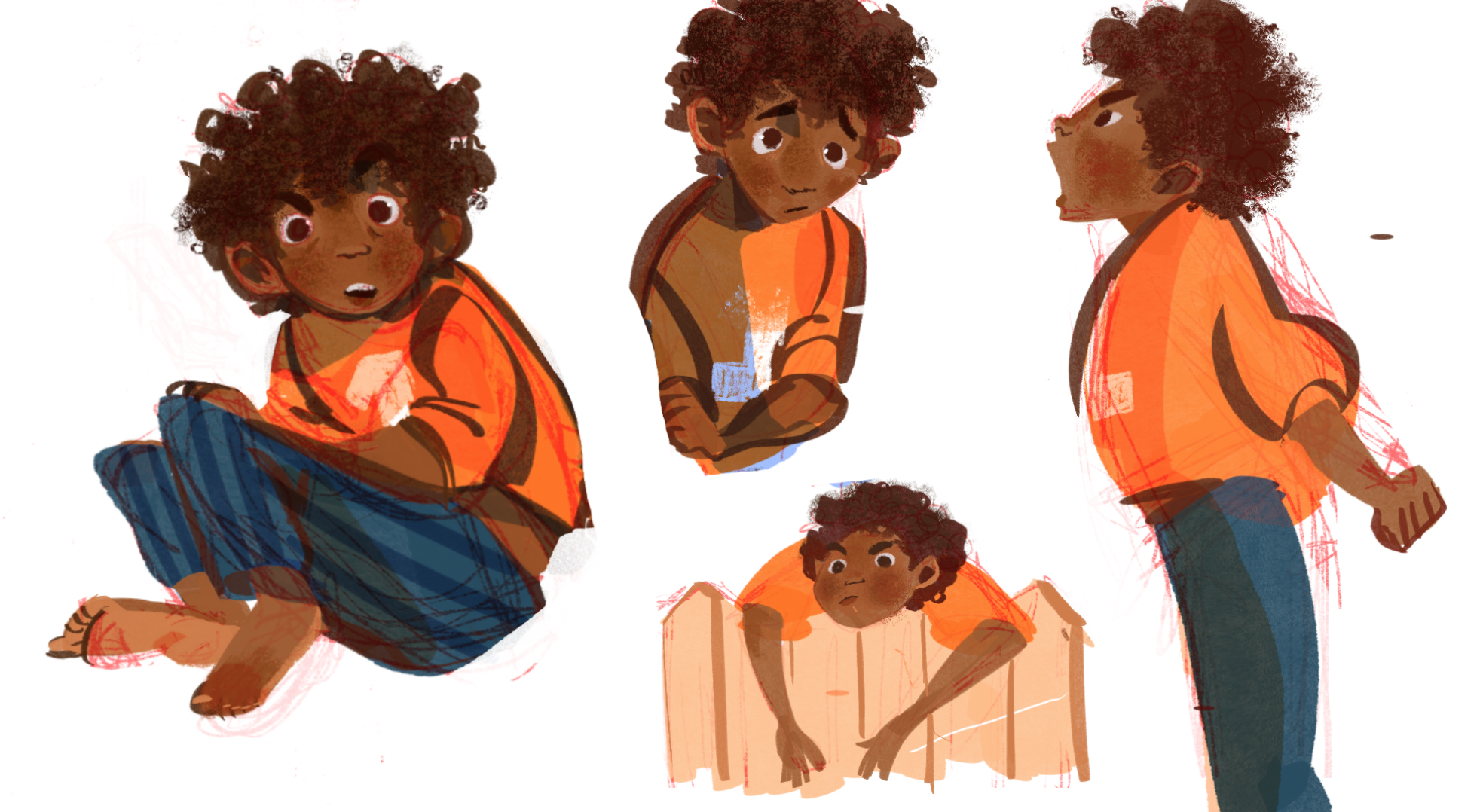 Pastry Family (left/top) and Kenny (bottom/right), character designs for a project.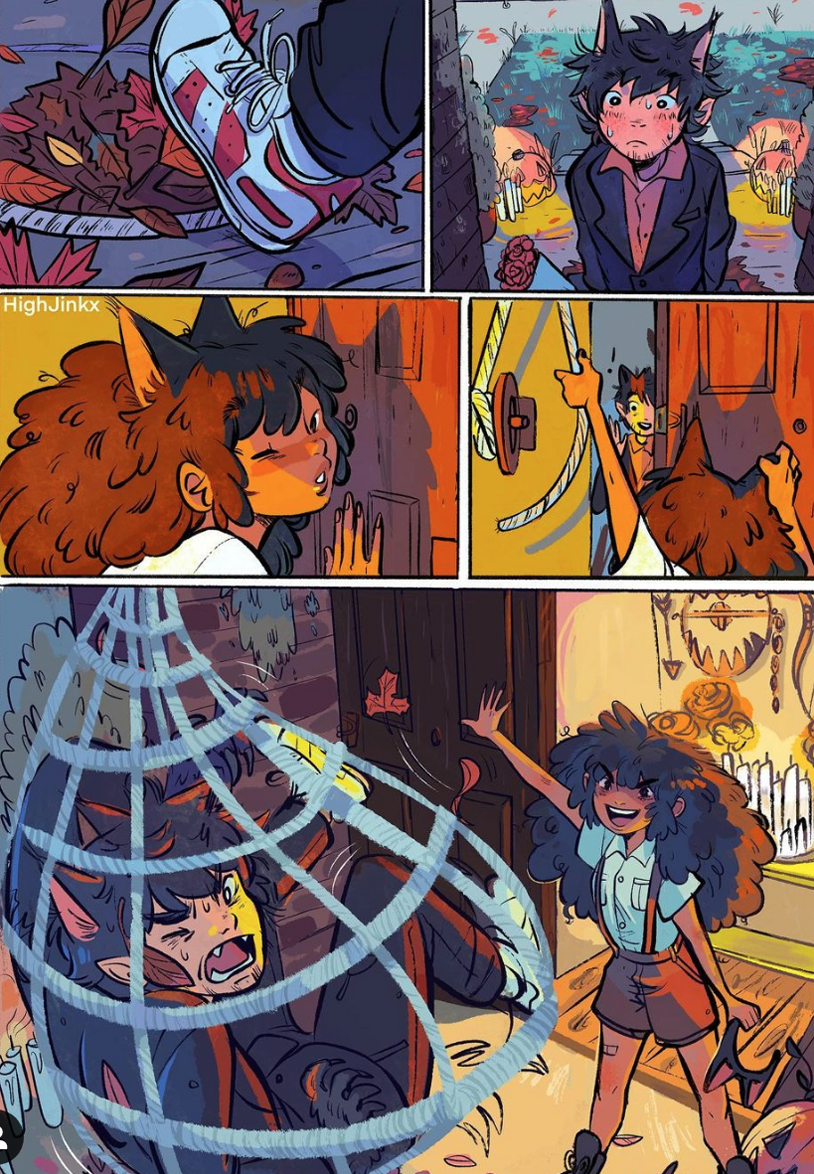 Comics, Werewolf boy is tricked by hunter girl. This is a comic made in collaboration with Ringling College of Art and Design, called "Meanwhile", which is a 2-page story published annually.
Here are some fun answers from Katelan so that we can know more about her:
1. If an animal could draw, which would be the greatest artist? Why?
I think cats could be the greatest artists. They're so curious and intelligent when you look in their eyes. Cats have so many different backgrounds – they could be feral, strays, abandoned, living cushioned lives—I feel like they'd have such potential of creating emotional images, don't you think?
2. If you were reincarnated as an ice-cream flavour, what would it be and why?
Although I've never had to consider what ice-cream flavour I'd like to be reincarnated as, I think the only answer could be Cookies n' Cream.
3. What do you think yellow, red and blue would taste like?
I know what these taste like! I'd tell people that I dislike certain coloured icings—I feel as though they absolutely have different flavors to them to the point I could guess it blind. Yellow tastes like your typical sweet icing, blue is the best because it just has more depth, and red tastes like something expired. So does hot pink!
4. If you could be a fictional character, what would you be and why?
I would love to be Ash from Pokemon! The world of Pokemon is very fun, magical and the Pokemon trainers have so much freedom that I couldn't help but admire them when I was a kid! I played the games and watched the shows growing up, so I was a huge fan of Pikachu and I wanted to travel the world to catch them all.
5. What sound do you love?
As a recently former barista, I love the sound of pulling espresso shots. It's really satisfying as it's the finale in the process. I would also say I love the sound of steaming the milk too, but it sort of sounds like screeching.
6. The best part of waking up is?
The best part of waking up is getting to start a new day, as cheesy as that sounds. I like being able to hit a reset button. I could be proactive in my health and maybe do some yoga, or make myself a nice breakfast to start the day right. The second best part would be taking care of my fur babies by giving them their food or taking the dog out for his walk. When my old cat Garfield was still with us, he truly was the best part of waking up. He was insanely snuggly and had so much love to give. 
7. What do you miss most about being a kid?
What I miss most about being a kid is not having the existential dread and anxiety that I face today. I'm still religious but was more into my religion as a child. I miss the time when my mind wasn't so expanded into thinking of the unknown and fearing it so much. I've lost a lot in 2020, so I've been thinking about death more and I struggle to keep the intrusive thoughts out.
8. If you had to work on only one project for the next year, what would it be?
I would love to work on a graphic novel. One of those Webtoons where you can update your comic online by the week. 
9. Do you have a fashion designer that you admire? Who is she/he?
One of my favorite fashion designers is Tolu Coker. A lot of her work is unapologetically black as a Nigerian herself, and I love the fact that her work often features upcycled denim and recycled scraps/plastics. The silhouettes are gorgeous and inspiring. 
10. Do you like listening or watching something while you are creating work? If so, what is it?
When I am creating, I like to listen to podcast, TV or music. I enjoy listening to some sort of noise, it keeps my interest up.
11. What would you like to ask the next featured artist?
How do you discipline yourself as a working artist especially during quarantine in this pandemic?