Marifé González is an illustrator from Madrid, Spain. She is deeply fascinated with the children's world and is intrigued by the way kids see things around them. She has a fine arts degree and graduated from Facultad de San Fernando, at Universidad Complutense de Madrid.
Marifé loves creating collages. Her style is whimsical, imaginative and child-like—which appeals to both kids and adults. Collages allow her to combine various techniques and explore different materials. She usually starts with a sketch, and sees where it takes her.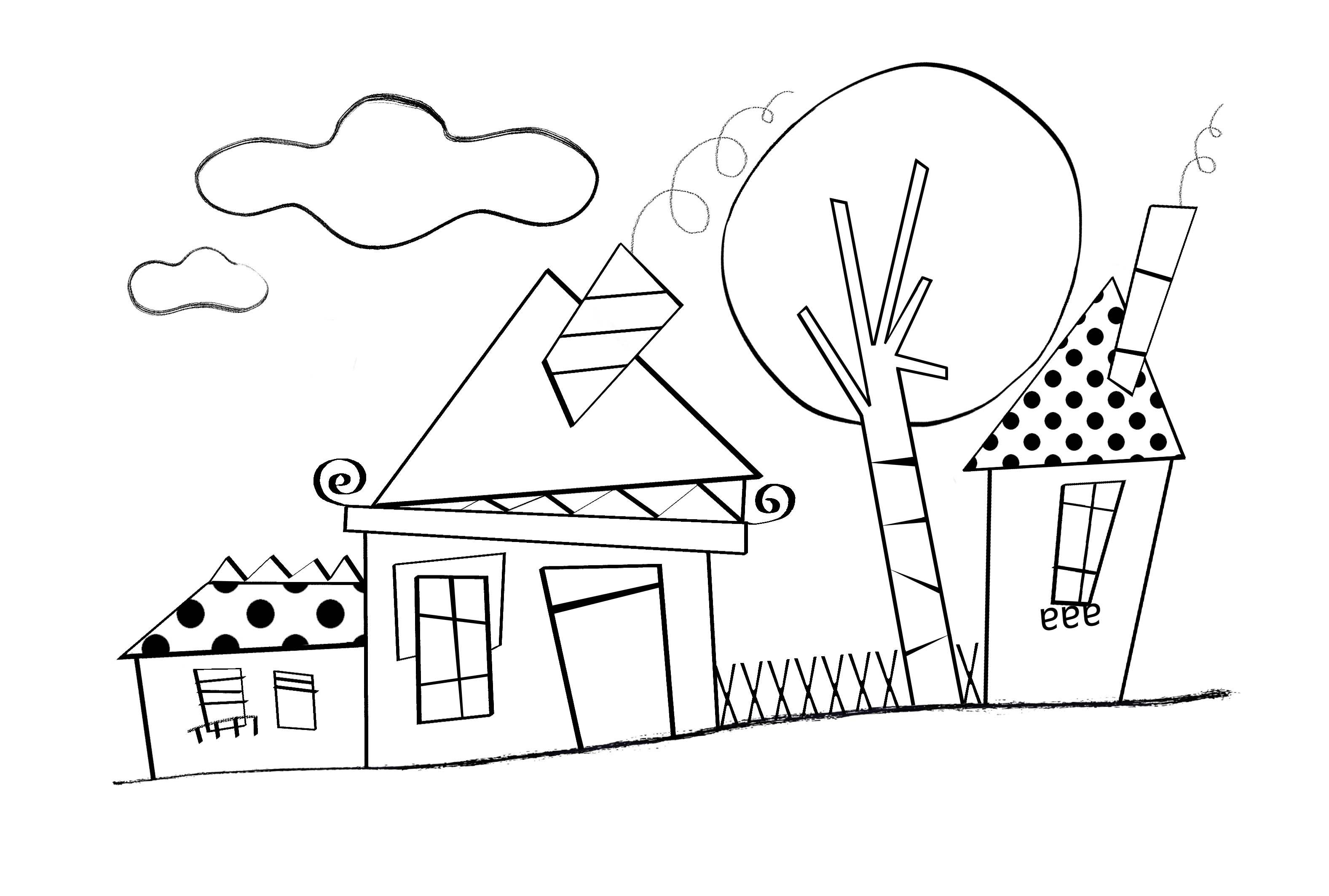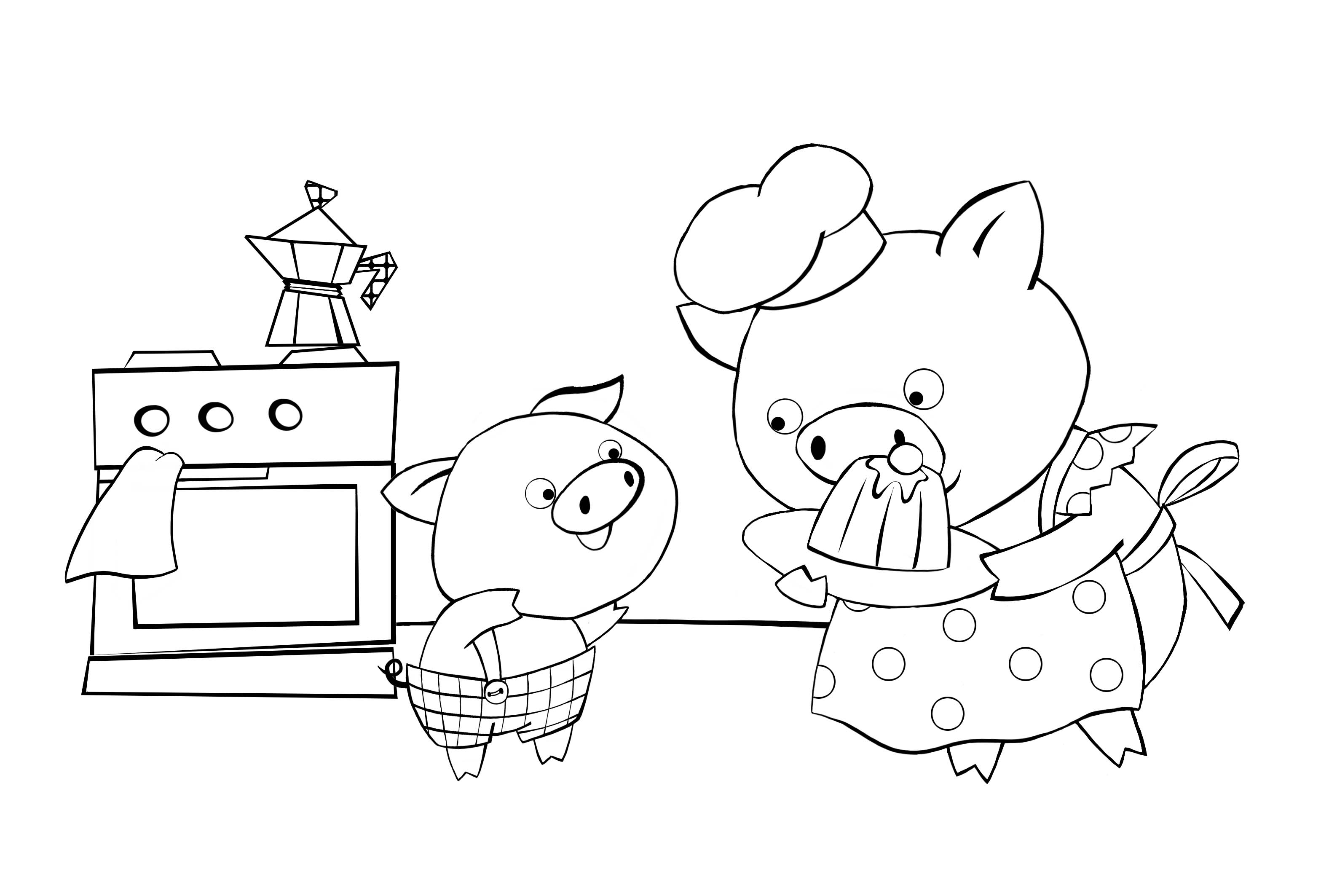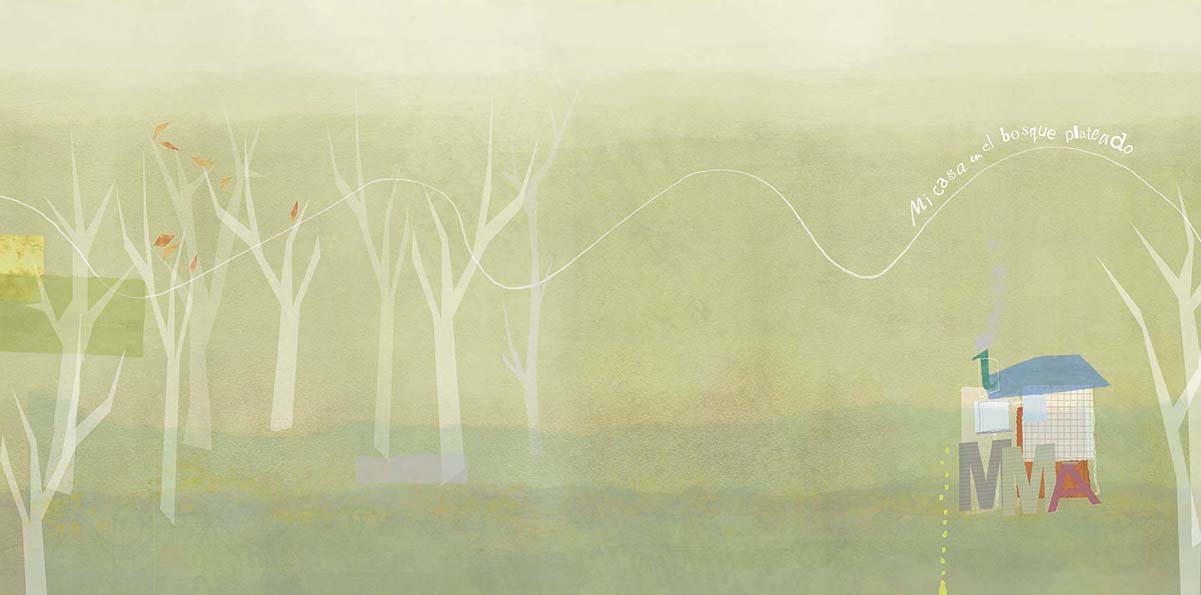 My House in the Silver Forest
This is a very personal piece for Marifé, which is part of a series of collages called "Imaginary Houses", where she would like to live.
The artwork below is "The Kite", which was created digitally, incorporating elements that were done manually and scanned. This is Marifé's favourite method. She used different types of paper and cardboard, either cutting them with a pair of scissors or a cutter.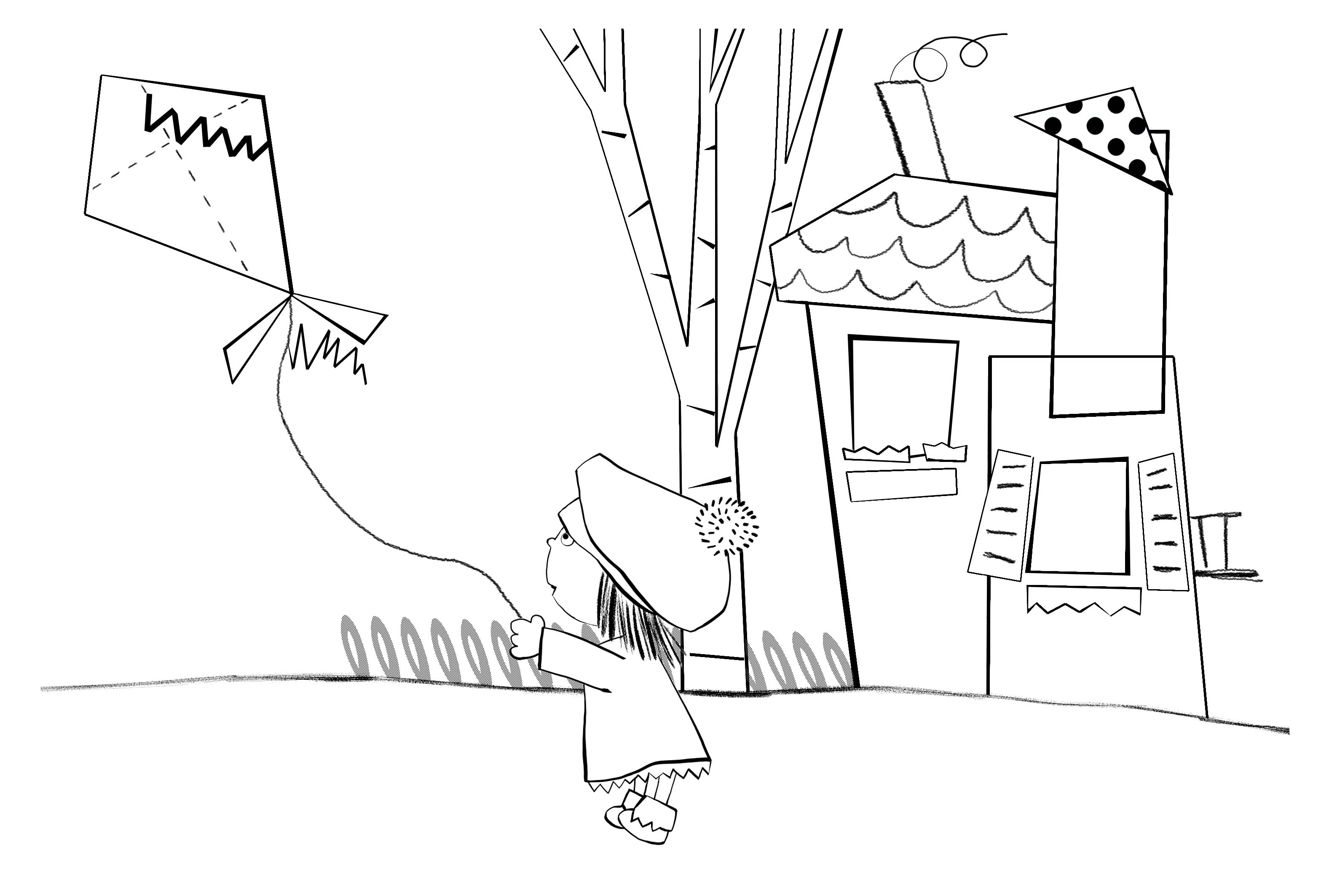 Her creative process started with a line sketch that serves as a guide. First, she cut out some paper in the shape of tree branches, some rectangular shapes for the house, and a few irregular shapes for the windows and roofs. Marifé also used paper which she had previous coloured with watercolours and acrylic paint, for the ground.
The next thing to do with the cut-out shapes was to scan them, so that she could compose the collage on her computer, using Adobe Photoshop. She would also draw the chimneys, roof tiles, chimney bricks and the fence using this software. Photoshop also allowed her to play with the opacity of each layer of her artwork.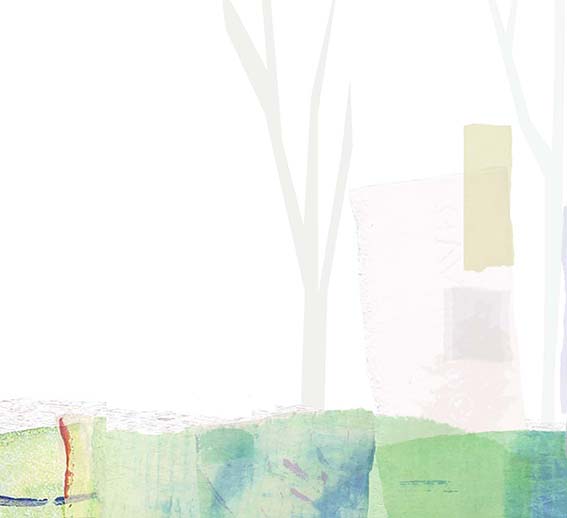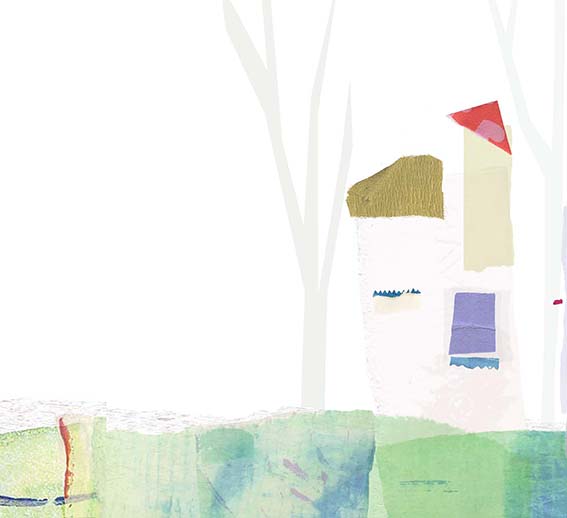 Finally, she added the character, which she had previously done and put aside. This character was created using the same mixed technique that she used for the scenery of this collage.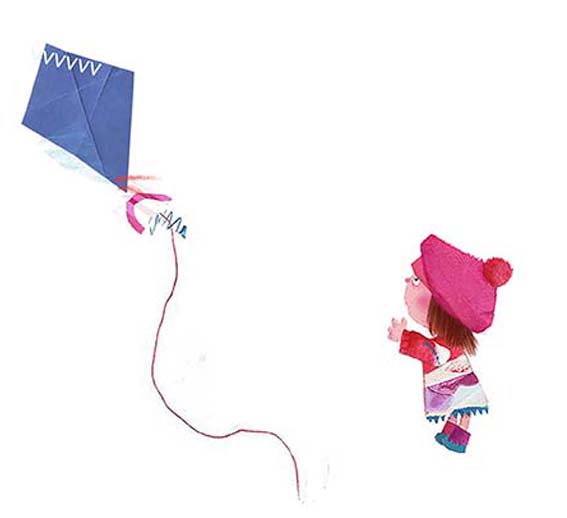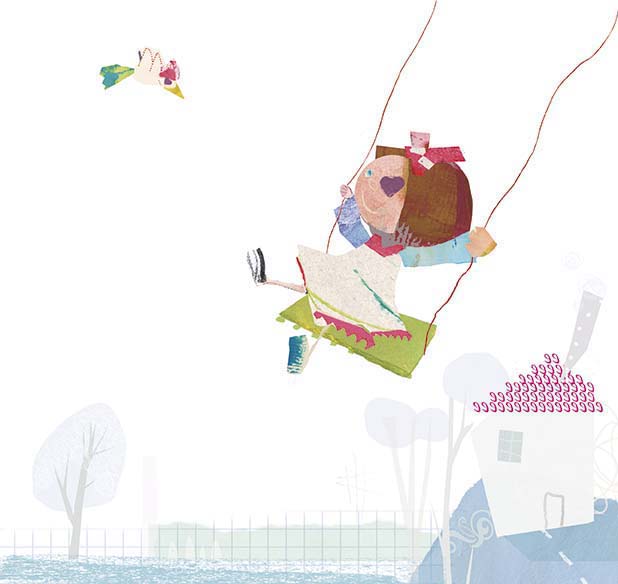 Swing

This is a memory of Marif
é
's childhood. This swing was at her grandparents' house, where she would go higher and higher to the the moon!
Left/Top:
Bluebird
, this tells the story of a boy lost in a magical forest.
Right/Bottom: Cakes Square, Marifé always tries to think of something which she likes before she works on a piece of art. And her goal is to convey that good feeling through it. Wouldn't you like to live in a place where delicious cakes are baked? She certainly would like to!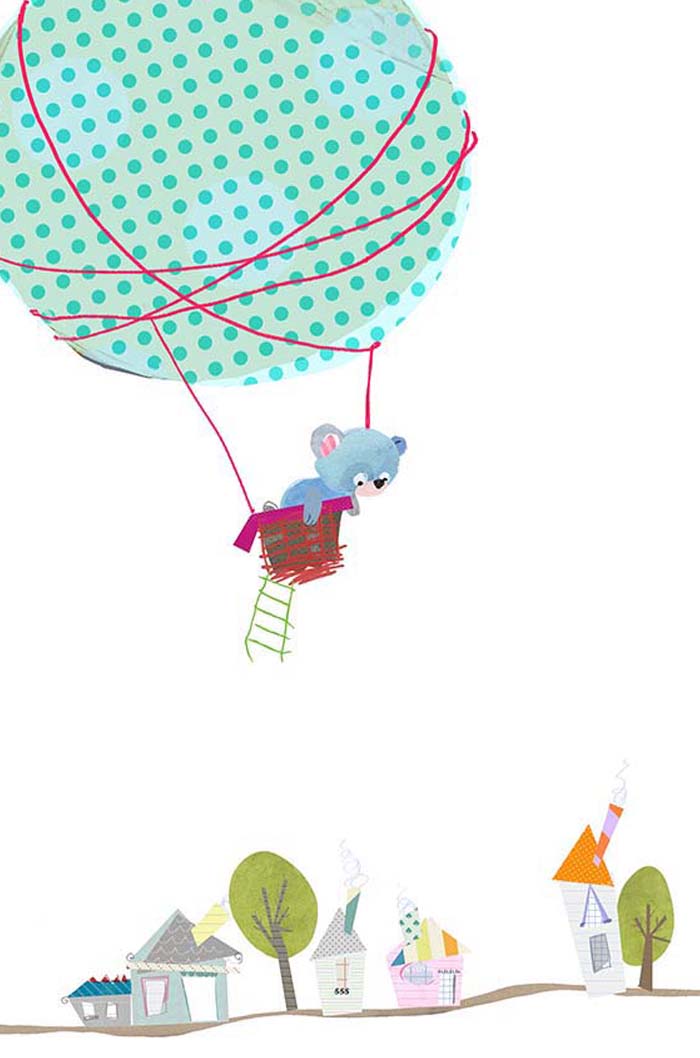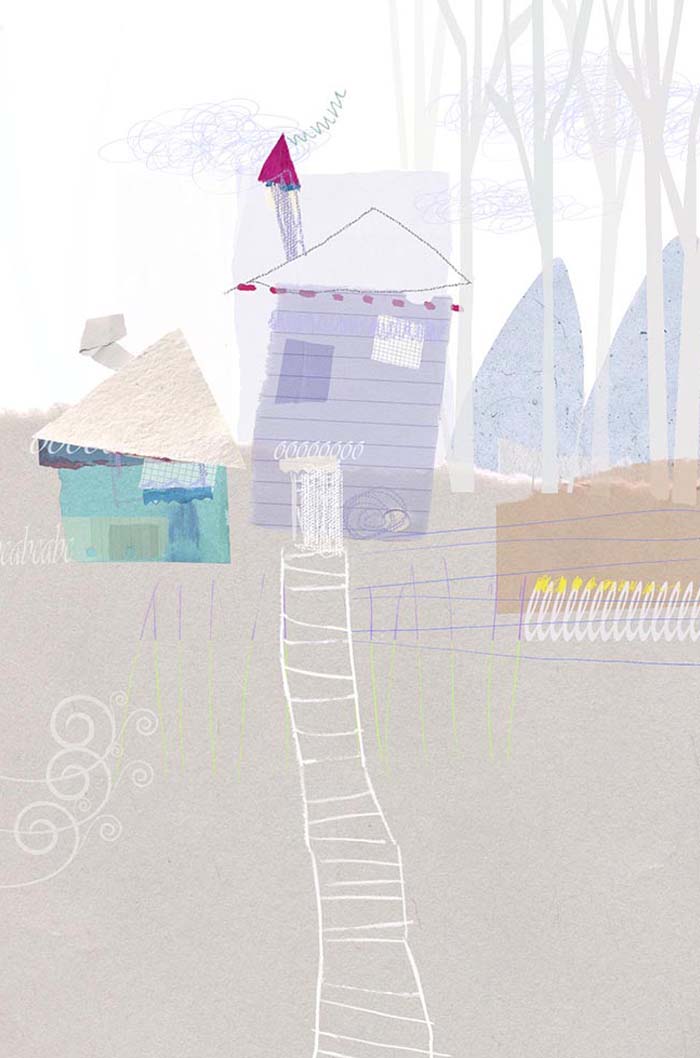 First:
Red
, this is an artwork about a little mouse who creates great inventions, and he has to face a challenge when everything turns red. Using the collage method to create this, 
Marifé also used acrylic paint and coloured pencils
.
Second: Balloon, in this piece, the bear is on an adventure to find something he's lost.
Third: The Way, this is part of the "Imaginary Houses" series. 
We asked Marifé some questions to get to know her better:
1. Can you see your finished artwork before you start it?
No. As I work on it, a few steps lead me to the next. Sometimes a little change upsets the entire piece. For example, a change in composition or colour in one part of the illustration might cause the rest to not work well as a whole.
2. Are you a day or night person? Do you have a particular time of the day where you are the most creative?
I love the day for all its light and colours. However, I work best in the silence of the night and my creativity flows better at that time. 
3. If you have to trade your artistic ability for something else, what would it be? Why?
I would like to know how to compose music. Although I am used to creating images, creating a melody seems very difficult and amazing at the same time. 
4. In your opinion, what makes an exceptional illustrator that stands out from the rest?
I guess an exceptional illustrator is someone who sticks to his own personal style and works freely.
5. How important is imagination and creativity in our daily lives?
They are very important, more so during this difficult time which we are living in. Reality can be creepy, but with imagination and creativity, it can be easier to overcome some challenges.  
6. Would you rather be own a dragon or be a dragon? Why?
I would like to be a dragon so that I can fly! Wouldn't that be cool?
7. If you had to eat a crayon out of its box, what colour would it be and why?
This is a very funny question! I think if I would eat the yellow crayon, so that I would be very bright and luminous. I would then have the power to illuminate all the dark and ugly things! 
8. What question would you ask our next featured artist?
If you could become one of the characters you have drawn, what would it be and why?